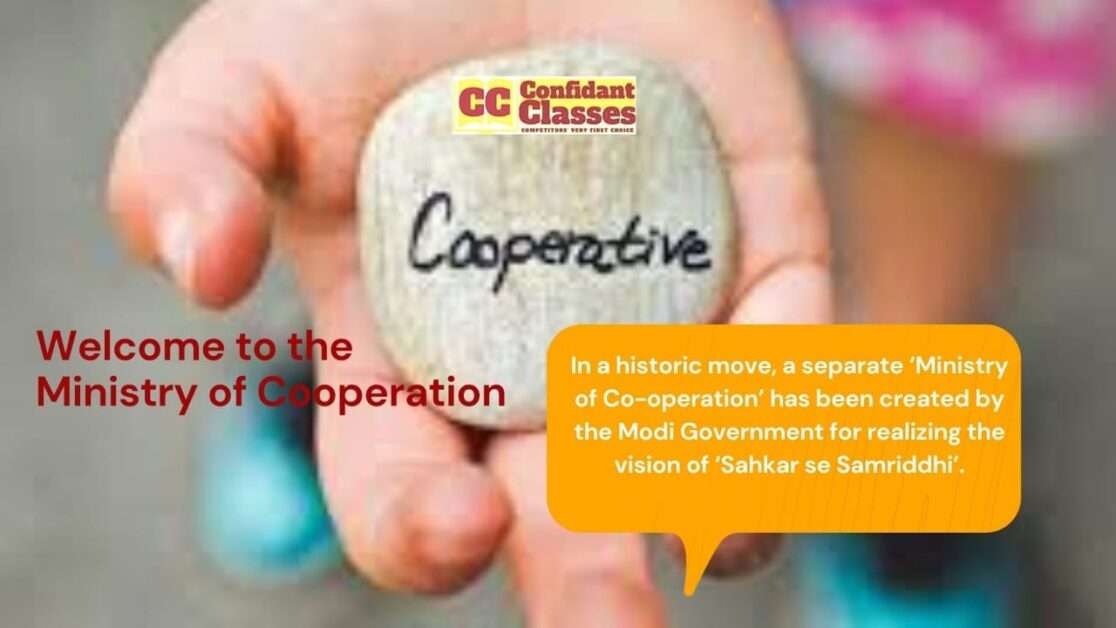 In a historic gesture, the Modi government has established a separate "Ministry of Cooperation" to realize the vision of "Sahkar se Samriddhi". The Ministry of Cooperation will provide a separate administrative, legal and political framework to strengthen the cooperative movement in the country.
This will help deepen cooperatives as a true grassroots movement. The ministry will work to streamline "ease of doing business" processes for cooperatives and allow for the development of multi-state cooperatives (MSCS).
The former Department of Agriculture, Cooperation and Peasant Welfare consisted of 27 divisions, 5 attached offices, 21 subordinate offices, 1 public sector company, 8 autonomous organizations and 2 authorities.
The central government has expressed its deep commitment to a community development association. The creation of an independent Ministry of Cooperation also responds to the budget announcement made by Finance Minister Nirmala Sitharaman.
In the past, the government changed the name of several ministries to broaden their work profile. For example, the Ministry of the Environment has been named the Ministry of the Environment, Forests and Climate Change; In addition, the scope of the Ministry of Livestock was expanded to include fishing, livestock and dairy production, and the Ministry of Human Resources was renamed the Ministry of Education.
A new ministry "Jal Shakti" was also formed, in which the former ministries of water resources and drinking water and sanitation were merged.
What is a cooperative society?
Cooperatives are businesses owned, controlled and managed by their members to meet their common economic, social and cultural needs and aspirations. Co-operative societies operate for a common benefit with a motive to help their members. Cooperative societies in India have played an important role in strengthening the rural economy.
According to the International Co-operative Alliance, co-operatives are people-centered businesses that are owned, controlled and managed by their members to meet their common economic, social and cultural needs and aspirations.
What is the history of the cooperative movement in India?
The history of cooperative societies dates back to pre-independence, in response to agrarian angst and general indebtedness.
The first cooperative society legislation came into effect with the Cooperative Credit Societies Act of 1904.
In 1912 another law was passed to rectify some of the drawbacks. The next landmark law came in 1919 under the Montague-Chelmsford reforms, under which cooperation became a provincial matter. It allowed provinces to draft their own legislation to govern co-ops.
Later, in 1942, the British government announced the Multiple Unit Cooperative Societies Act to cover cooperative societies whose members extended beyond a province.
In post-independence India, in 1958, the National Development Council (NDC) recommended a national policy on cooperatives as well as staff training and the establishment of cooperative marketing societies.
In 1984, Parliament enacted the Multistate Cooperative Societies Act to eliminate the plethora of laws governing the same types of companies.
In 2002, the then nda government, under the leadership of Atal Bihari Vajpayee, announced a national policy on cooperatives to support the promotion and development of cooperatives. It also aims to reduce regional imbalances and strengthen cooperative education, training and human resource development.
What laws govern cooperative societies?
Like agriculture, cooperation is on the concurrent list, which means central and state governments can rule them. Most cooperative societies are governed by the laws of their respective states, with a cooperation commissioner and the registrar of societies as the government office.
In 2002, the Center passed a Multistate Cooperative Societies Act which allowed the registration of companies with operations in more than one state.
These are mainly banks, dairies and sugar factories whose area of ​​activity covers all states. The Central Register of Companies is its supervisory authority, but in the field the State Register acts on its behalf.
Types of Cooperative Societies
There are six main types of cooperative societies:
Consumer cooperative societies,
Cooperative societies of producers,
Cooperative marketing companies,
Housing cooperative societies,
Cooperative credit societies,
Agricultural cooperative societies.
Government weapons that oversee the area
The National Cooperative Union of India (NCUI) and the National Cooperative Development Corporation (NCDC) work to promote the cooperative movement in India.
The NCDC was initially responsible for planning, promoting and financing programs for the production, processing, marketing, storage, export and import of agricultural products, food, and notified products.
Later, however, it was expanded to help different types of cooperatives and broaden its financial base.
It also finances projects in rural industrial cooperative sectors such as water conservation, irrigation, agro-insurance, agro-credit, sanitation and animal health.
How much finances do these institutions control?
NABARD's annual report for 2019-2020 counts 95,238 PACS, 363 DCCB and 33 state cooperative banks in the country. The state cooperative banks reported total paid-up capital of Rs 6.104 crore and deposits of Rs 1.35,393 crore, while DCCB's paid-up capital stood at Rs 21.447 crore and deposits at Rs 3 78.248 crore.
The DCCB, whose main function is the disbursement of short-term loans for the agricultural sector (agricultural loans), distributed 3,00,034 crore in the form of loans.
The state cooperative banks, which mainly finance food industries such as sugar factories or spinning mills, disbursed Rs 148,625 million in the form of loans. (Annual report, NABARD, 2019-20).
In urban areas, urban cooperative banks (UCBs) and cooperative credit societies extend banking services to many sectors that would otherwise have had difficulty fitting into the institutional credit structure.
According to the Reserve Bank of India data, the country has 1,539 UCBs with a total capital in 2019-2020 of Rs 14,933.54 crore with a total loan portfolio of Rs 3,05,368.27 crore.
Various facets of cooperatives in India
Cooperatives in India have grown exponentially. In agriculture, dairy and sugar cooperatives, spinning mills, etc. They are formed with the pooled resources of farmers who want to transform their products.
The country has 1,945,195 dairy cooperatives and 330 sugar cooperatives.
In 2019-2020, dairy cooperatives bought 4.80 million liters of milk from 1.7 million members and sold 3.7 million million liters of fluid milk per day. (Annual Report, National Dairy Development Board, 2019-2020) Cooperative sweets represent 35% of the sugar produced in the country.
In banking and finance, cooperative institutions are distributed in rural and urban areas. Village Primary Agricultural Credit Societies (PACS) made up of farmers' associations are the best example of credit flow at the local level.
These companies anticipate the credit demand of a village and apply for the Central District Cooperative Banks (DCCB).
State cooperative banks are at the top of the rural cooperative credit structure. Since PACS are a collective of farmers, they have much more bargaining power than an individual farmer arguing at a commercial bank.
In the banking sector, according to the RBI, its contribution to rural credit increased from 3.1 percent in 1951 to an impressive 27.3 percent in 2002.
The data show that the combined balance sheet of all state cooperative banks, at March 31, 2015, it was Rs 1.98 lakh crore and that of the district central cooperative banks amounted to Rs 4.06 lakh crore, their net earnings were respectively 1,005 crore and Rs 793 crore.
Cooperatives have also evolved in different forms, such as consumer cooperative societies such as Kendriya Bhandar, a welfare society for central government employees established in 1963; Apna Bazar, one of the largest and oldest multi-state cooperatives, and Sahakari Bhandar, a cooperative chain of retail stores.
Then there are producer cooperatives like APCO or the Andhra Pradesh State Hand Weavers Cooperative Society; and Boyanika, representing the Odisha weaving cooperative societies, and Haryana Handloom.
Maharashtra alone has around 2 lakhs of cooperative societies with an estimated total of 50.5 million members. According to official state data, there are 21,000 primary agricultural credit societies and 31 district cooperative banks.
Apart from these, there are sugar cooperatives, dairy cooperatives, power looms, urban and rural non-agricultural credit societies.
Examples of cooperative societies and their functioning
Amul is a successful example of a dairy cooperative society. It is managed by the Federation of Gujarat Milk Marketing Cooperatives and is jointly owned by some 36 million dairy farmers in the western state.
AMUL, the largest food and dairy company in the country with an annual turnover of over Rs 38,000 crore.
The Federation of Gujarat Milk Marketing Cooperatives which sells AMUL dairy products is an example of a cooperative marketing society, which is made up of small producers and manufacturers who find it difficult to sell products individually. The company collects the products and takes responsibility for their sale.
The cooperative collects and distributes products from milk producers, eliminating the need for middlemen. Gujarati dairy farmers have benefited tremendously as they would otherwise have had difficulty selling individually to customers directly.
According to the National Dairy Development Board's 2019-2020 annual report, there are 1,945,195 cooperative dairy companies in the country.
Some other prominent examples of cooperative societies are Kendriya Bhandar and Sahkari Bhandar, which purchase goods directly from producers / manufacturers, thereby eliminating middlemen and delivering the product at lower cost to end consumers, thus protecting the interests of both producers and from customer manufacturers.
Cooperative societies are not limited to agriculture. In the banking and financial field, cooperative institutions are distributed in rural and urban areas in the form of credit companies.
For example, at the village level, there are Primary Agricultural Credit Societies (PACS) at the village level, which anticipate a particular village's credit demand and obtain loans from central district cooperative banks (DCCBs).
At the top of the rural credit lending structure are the state cooperative banks. This is another successful example of a cooperative partnership, as individual farmers do not have the bargaining power to argue their case with a bank.
According to the NABARD 2019-20 report, there are 95,238 PACS, 363 DCCB and 33 state cooperative banks in India.
In addition to credit companies, there are also housing cooperative societies in urban areas and marketing cooperative societies in rural areas.
About Post Author
Summary
Article Name
Welcome to the Ministry of Cooperation
Description
: In a historic move, a separate 'Ministry of Co-operation' has been created by the Modi Government for realizing the vision of 'Sahkar se Samriddhi'.
Author