Goods and services tax (GST) revenue collection in September reached Rs 95,480 crore, the highest of this fiscal year so far, indicating that economic activity is gathering momentum alongside the gradual relaxation of restrictions blocks needed for the COVID-19 pandemic.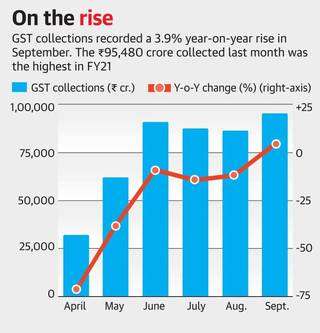 Indirect tax collections in September were more than 10% higher than in August, 4% higher than GST collections the same month a year ago, and marked only the second time that the mark of Rs 90,000 crore was exceeded this fiscal year.
GST collections slipped after January 2020, when they hit nearly 1.11 lakh crore March 2020, after which the national lockdown was imposed, recorded GST inflows of Rs. 97,597 crore.
April and May were the hardest hit, with just over Rs 32 billion and Rs 62 billion respectively.
"Gross GST revenues collected in September 2020 are Rs 95,480 crore, of which central GST is Rs 17,741 crore, state GST is Rs 23,131 crore, integrated GST is Rs 47,484 crore [including Rs. 22,442 crore "collected on importation of goods] and the tax is Rs 7,124 crore [including Rs. 788 crore collected on importation of goods]", said the Finance Ministry in a press release Thursday.
Economists have been cautious, reading the healthier numbers as a sign of a lasting rebound from the country's sharp 23.9% contraction in the country's gross domestic product in the first quarter of 2020-2021.
The chief economist of rating agency icra, Aditi Nayar, said the increase in GST collections was a relief, although it was likely due to "a combination of stifled demand and restocking," and therefore its durability remains uncertain ".
"Overall, the high-frequency data available for September 2020 confirms that a fragmented recovery is underway. We continue to expect the contraction in GDP to decline significantly to 12.4% in the second quarter, " Nayar said.
"With a significant portion of the economy picking up operations and international trade, as well as picking up the pace, collections have shown decent growth," said Abhishek Jain, EY tax partner.
Income from imports of goods was 102% and income from domestic transactions that include the import of services represented 105% of income from these sources in September 2019.
Among the largest states, Rajasthan and Tamil Nadu recorded the highest growth in GST receipts with 17% and 15% respectively compared to September 2019.
Andhra Pradesh saw growth of 8%, Gujarat 6 %, while Maharashtra and Uttar Pradesh recorded stagnation The trend and collections in Karnataka are down 5% from a year ago.
About Post Author