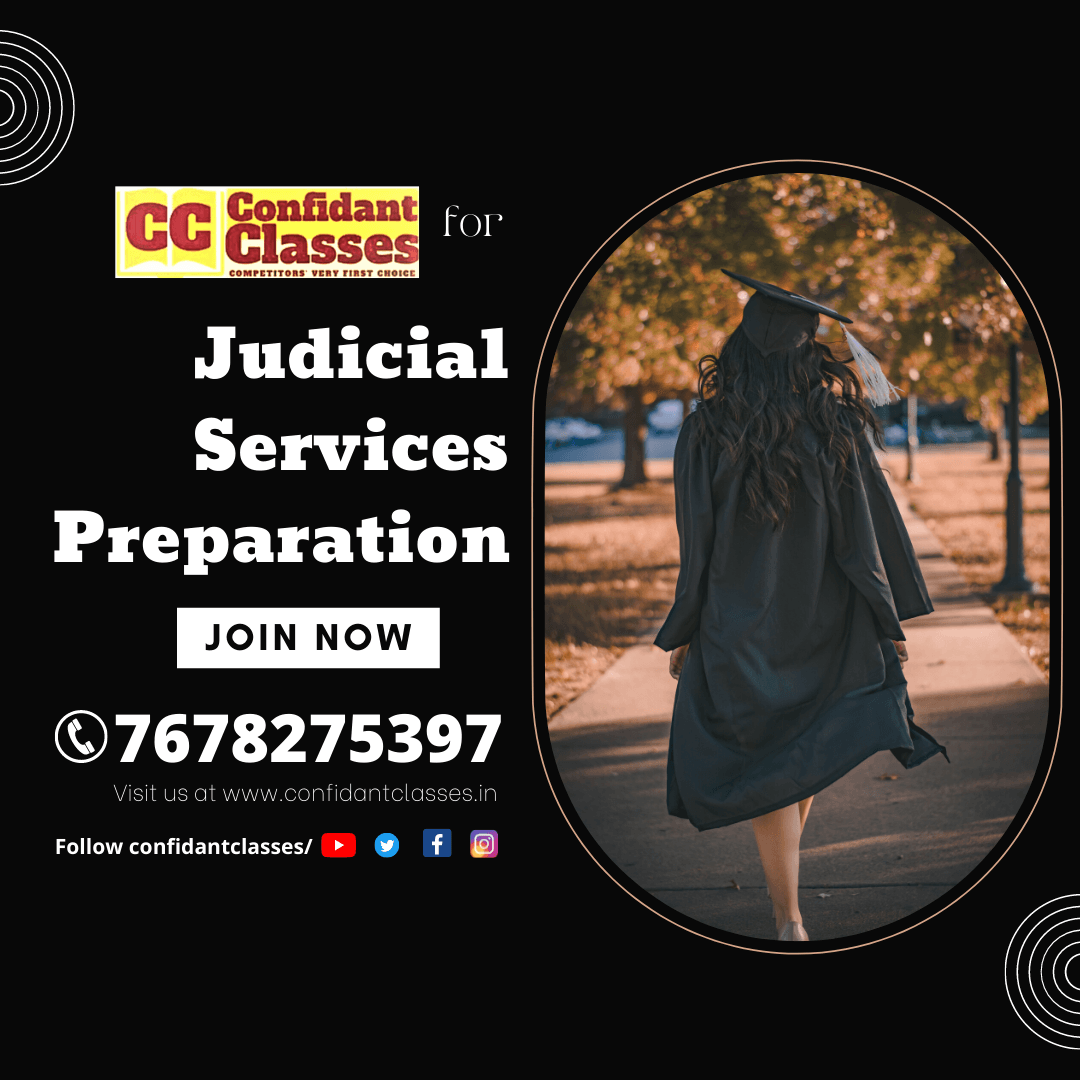 Confidant Classes is one of the top legal services preparation coaching in India. It provides the best judiciary law coaching in Delhi. Confidant Classes Educators have 20+ Years of teaching experience in Judiciary Services. Our association with quality teachers has made great success stories in Judicial Services Examinations. We also provide online law classes for various exams like CLAT, DU LLB, LLM Entrance and other state judiciary exams.
The Judicial Service Examination consists of two levels and a Viva Voice test. The first examination is the Judicial Service Preliminary Examination and the next one is the Judicial Service Mains Examination. Candidates shortlisted from the prelims will be eligible to appear for the Main exam. The final merit list is based on both these levels along with the marks obtained in the personality test. Certain states have a requirement of minimum marks in the viva voce test, whereas other states aggregate it to the marks of the Mains and prelims.
Regular/ Live Streaming Classes
Online Test series
Recent case studies on Podcast.
Doubt session meeting on zoom
24*7 Interaction on Telegram channel & Whatsapp.
Digital Study Material.
SYLLABUS FOR PRELIMINARY EXAMINATION
The preliminary examination generally consists of questions from the following subjects:
General Knowledge and Current Affairs
Proficiency In English Language and Aptitude
Constitutional law
IPC, CPC, CrPC and The Indian Evidence Act
Contract Law and Tort Law

Transfer of Property law
ADDITIONAL STATESWISE SYLLABUS
Arunachal Pradesh, Assam, Jammu and Kashmir, Maharashtra, Manipur, and Nagaland: Proficiency in the official language of Assam..

Bihar: Elementary general Science, Administrative law, Hindu and Muslim personal laws, Principles of Equity, Law of trusts, Specific Relief Act, Commercial law.

Chhattisgarh:  Accommodation Control Act, Court fees act, Registration Act and Chhattisgarh Land revenue code, Limitation, and Specific relief acts.

Delhi: Principles Governing Arbitration Law, the Partnership Act.

Goa: Sales of Goods Act, Land laws of Goa, The Scheduled Tribe and Scheduled Caste (Prevention of Atrocities Act, 1989).

Karnataka: Karnataka Rent Act.

Kerala: Kerala Building (Lease and Rent Control) Act.

Madhya Pradesh: Madhya Pradesh Accommodation Control Act, Madhya Pradesh Land Revenue Code.
BOOKLETS OF SUBSTANTIVE LAWS + PROCEDURAL LAWS EXCEPT CrPC, CPC, LOCAL LAWS, GS , ESSAY,
TRANSLATION, ENGLISH 
HANDOUTS OF LATEST SUPREME COURT JUDGMENTS WITH ANALYSIS BY RESPECTIVE FACULTIES.
EXHAUSTIVE CLASSROOM DICTATION
1. RAJESH RANJAN: IPC, CRPC, CPC, CONTRACT ACT, EVIDENCE ACT, CONSTITUTIONAL LAW, NEGOTIABLE INSTRUMENTS ACT, INTERNATIONAL LAW, TRANSFER OF PROPERTY ACT, HINDU LAW, MUSLIM LAW, PARTNERSHIP ACT, JUDGMENT WRITING
2. NAINA SEHGAL: SPECIFIC RELIEF ACT, RENT CONTROL ACT, LIMITATION ACT, INDIAN EASEMENT ACT, TRUST ACT, SALE OF GOODS ACT, LAW OF TORTS 
3. RAJESH RANJAN, SUNIL SINGH : ESSAY
4. AKHILESH MISHRA : TRANSLATION
5. RAJESH RANJAN : ENGLISH
6. GS & CURRENT AFFAIRS : When notification comes specialist teachers of respective states are invited to conduct classes.
7. LOCAL LAWS: When notification comes specialist teachers of respective states are invited to conduct classes.
WEEKDAYS & WEEKEND BATCHES
Weekdays Batch: 2 hrs Monday to Friday
Saturday: GS and Misc.
Total course length 15 months 
1000 + hrs. Classes (in 15 Months)
Know all about Judicial Services Examinations
Summary
Reviewer
Review Date
Reviewed Item
Author Rating
Course Name