Prime Minister Narendra Modi opened the atal tunnel in Rohtang on Saturday at an altitude of more than 3,000 meters in Himachal Pradesh. After the inauguration, he said the tunnel would provide new strength to the country's border infrastructure.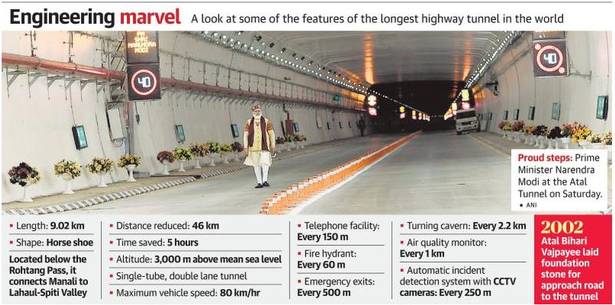 The 9.02 km long tunnel, built by the Border Roads Organization (BRO), is the longest highway tunnel in the world and connects Manali with the Lahaul-Spiti Valley.
it provides all-weather connectivity to the Lahaul-Spiti landlocked valley, which remains isolated for nearly six months out of the year, with the Rohtang Pass typically covered in snow between November and April.
Before the tunnel was built, the Lahaul Valley was closed to vehicular traffic due to poor weather conditions. But thanks to the tunnel, the inhabitants of the valley will benefit from road connectivity throughout the year.
The tunnel reduces the distance of 46 km between Manali and Leh and the travel time by approximately 4 to 5 hours. It should stimulate tourism and winter sports in the region.
The tunnel, also important from a military logistics point of view, will provide better connectivity for the armed forces to reach Ladakh.
In 2019, the Union Cabinet decided to name the tunnel "Atal Tunnel" in honor of former Prime Minister Atal Bihari Vajpayee for his contributions.
The decision was made in 2000 when he was prime minister. The first stone was laid by the president of the UPA, Sonia Gandhi, on June 28, 2010.
Modi said in a veiled attack on the UPA governments led by Congress "It was from 2014 that the project took an unprecedented pace. All issues found by the BRO have been resolved. The result was that if the previous works of 300 meters of tunnel were carried out every year, they reached 1,400 meters per year. In six years we have completed the work of 26 years.
Modi said the delay in completing major infrastructure-related projects, such as the "Atal Tunnel", would only harm the country's interests. "The delay is not only causing inconvenience to people, but the country must also bear the loss financially.
In 2005, the estimated cost of this tunnel was projected at ₹ 950 crore, but due to ongoing delay, the tunnel is now complete after spending more than ₹ 3,200 crore, "he noted.
There is a direct relationship between connectivity and the development of the country. "More connectivity means more development. Especially in border areas, the development of connectivity is linked to the security needs of the country. But sadly, the seriousness surrounding the connectivity of border development has never been demonstrated by previous governments due to the lack of strong political will, "he said.
In the Himalayan region- be it Himachal Pradesh, Jammu-Kashmir, Kargil, Leh-Ladhak, Uttarakhand, Sikkim, Arunachal Pradesh, dozens of such projects have been completed and work on several other projects is being done," he added.
About Post Author