The Indian economy could report a 16.5% contraction in the April-June quarter of fiscal year 21, compared to a previously expected 20% contraction, due to the decrease in corporate GVA, thanks to the better than expected results of certain financial and non-financial activities companies, was significantly better than the decline in revenue in the first quarter of fiscal year 21, said economists at India's largest public sector bank, the State Bank of India (sbi).
The government is expected to release gdp data for the first quarter of fiscal year 21 on August 31. Based on the Composite Leading Indicator (CLI), which is a basket of 41 leading economic indicators, Ghosh infers that economic activity is showing early signs of reversal.
Data released by the government last week showed that Indian industrial production contracted sharply for the fourth consecutive month in June, but at a slower pace than in May, indicating a gradual process of normalization in activity. manufacturing.
Data provided by the National Statistics Office shows that the industrial production index (IIP) contracted 16.6 percent in June from 34 percent in May. During the June quarter, the IIP contracted by 35.3%, which could have a major impact on GDP growth for that quarter. They expect GDP growth to contract by 15.2% year-on-year in the second quarter and by -4.2% on average in the second half of 2020, leading to global growth of -5.0% in 2020.
GDP by state
According to Ghosh, as the Covid-19 epidemic spreads through the densely populated rural areas of India, the four quarters of fiscal year 21 are likely to show negative real GDP growth, while annual growth slows. it could be double digits.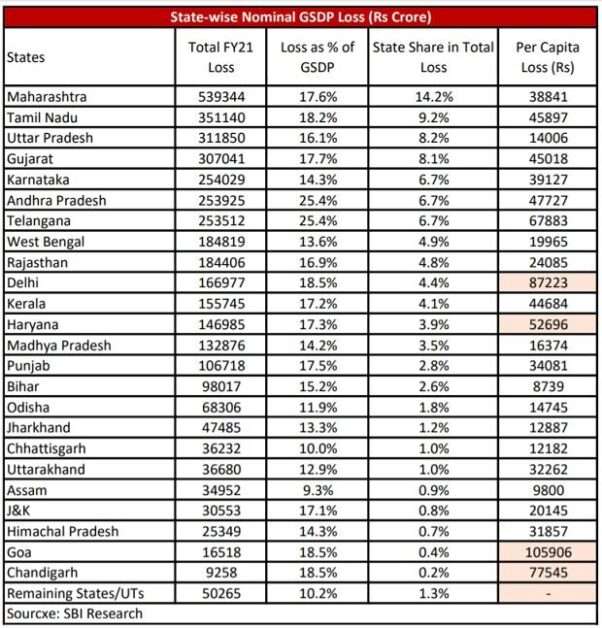 Using the bottom-up approach, Ghosh estimated the loss of production in each state based on the level of activity which is then added together for the overall loss of GDP.
In the last 15 days, India has reported 10 lakh cases of Covid-19. India now accounts for 10.40 per cent of all active cases globally (one in every 10 active cases), and 6.50 per cent of all deaths (one in every 15). India has recorded 57,981 coronavirus cases in the past 24 hours, taking its total to 2,651,290, data provided by Health Ministry shows. With over 961 fatalities reported on Sunday, the country's death toll has surged to 51,079.
About Post Author