Union Cabinet met second time this month, as today the cabinet approved "Trade in Agricultural Products (Promotion and Facilitation) Ordinance, 2020".
The ordinance will create an ecosystem where farmers and traders will enjoy freedom of choice in the sale and purchase of agricultural products, the ordinance was adopted to allow farmers to interact with processors, aggregators, large retailers and exporters.
The cabinet approved the removal of restrictions on the sale of agricultural products. Farmers will now be free to sell products outside of the APMC. Farmers will be able to sell products on electronic platforms and there will be no sales tax on agricultural products outside of APMC markets.
About 9.5 lakh farmers have benefited from this step. The 2020 Ordinance on Trade and Marketing of Agricultural Products (Promotion and Facilitation) guarantees free trade without barriers for agricultural products. The farmers' agreement (empowerment and protection) on price guarantees and the agricultural services ordinance of 2020 will allow farmers to engage with processors, aggregators, large retailers and exporters' equality without fear of exploitation.
What is APMC?
The Agricultural Products Market Committee (APMC) is a statutory market committee established by a state government for the trade of certain agricultural, horticultural or livestock products notified in accordance with the Law of the Committee of Agricultural Products Committee Published by this state government.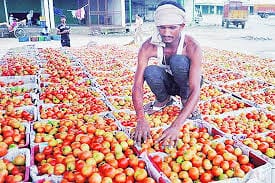 APMCs objectives
To ensure transparency in pricing system and transactions taking place in market area;
To provide market-led extension services to farmers;
To ensure payment for agricultural produce sold by farmers on the same day;
To promote agricultural processing including activities for value addition in agricultural produce;
To Publicize data on arrivals and rates of agricultural produce brought into the market area for sale; and
To setup and promote public private partnership in the management of agricultural markets
The Union Cabinet also approved the decision to rename the port of Kolkata to the Shyama Prasad Mookerjee Port.
Shyama Prasad Mookherjee founded Bharatiya Jana Sangh who later became the BJP. He was the Minister of Industry and Supply of India. Shyama Prasad Mookerjee was known to be a staunch critic of the Congress party in independent India. He is opposed to article 370 and declared himself dissatisfied with the special status of Jammu and Kashmir. He was also president of Akhil Bharatiya Hindu Mahasabha from 1943 to 1946. Mookerjee was arrested there by J&K police and later died in custody on June 23, 1953.
The cabinet also approved the creation of the Pharmacopoeia Commission for the medicine and homeopathy of India (PCIM & H) as a subordinate office of the AYUSH ministry.
[smartslider3 slider="2″]
About Post Author