Tata Institute of Social Sciences, Mumbai will release the notification for tissnet 2022 tentatively in November 2021. Registration for TISSNET 2022 will take place online. TISSNET 2022 will take place in online mode. Candidates who pass the TISSNET 2022 exam must sit for the tissmat and PI rounds. Last year, due to an increase in Covid-19 cases, TISSMAT was canceled and online evaluation rounds were conducted based on the final merit list that was declared.
What is TISSNET?

The Tata Institute of Social Sciences in Mumbai organizes the tiss national entrance test (TISSNET). This is a nationwide entrance exam organized for admission to the Masters programs of the School of Labor and Management Studies. The master's degree programs offered at TISS campuses are comparable to management programs offered by top MBA universities in India. TISS will announce the exam dates for TISSNET 2022 provisionally in November 2021. The TISSNET 2022 exam is scheduled to take place in February 2022. The entrance exam takes place in online mode and the exam consists of mastery questions from English, mathematical and logical reasoning. skills and general awareness.
TISSNET Exam Highlights
| | |
| --- | --- |
| Features  | Details  |
| Exam Name | Tata Institute of Social Sciences National Entrance Test |
| Conducting Body | TISS Mumbai |
| Exam Level | National |
| Exam Frequency | Once a year |
| Exam Mode | Online |
| Exam Duration | 100 minutes |
| Exam Syllabus | English Proficiency, Mathematical Skills & Logical Reasoning, and General Awareness |
| Exam Pattern | 100 questions in MCQ format |
| Language | English |
| Exam Fees | Rs 1,030 per course (for the unreserved category) and Rs 260 per course (for reserved category) |
| Exam Purpose | Admission to TISS Mumbai, TISS Tuljapur, TISS Hyderabad and TISS Guwahati |
| Course Offered | MBA/PGDM, MA in Education, MA, MA-MSc, MHA, MPH, MPH-HPEF, MPH-SELL, MMA in Social Work, MLIS |
| No. of Test Cities | 39 |
| Exam Helpdesk No. |  022-2552 5000 |
| Exam Website |  https://tiss.edu/ |
TISSNET Eligibility Criteria:
The eligibility criteria for appearing in TISSNET 2022 exam has been given below:
Academic Qualification
The candidate must possess a bachelor's degree or equivalent from a recognised university
Candidates who will complete their final year of bachelor's degree/equivalent by June 2022, can also apply
Candidates pursuing a 3-year bachelor's degree should have passed all the 4 semesters at the time of filling TISSNET application form whereas those pursuing a four-year bachelor's degree must have cleared all the subjects up to the sixth semester
Shortlisted candidates should produce original certificates and mark sheets on the date of the personal interview. Those who are in the final year of the degree programme are required to produce the mark sheets of all previous semesters
Age Limit: There is no defined age limit for appearing in TISSNET 2022 exam.
Work Experience: Candidates applying for Master of Arts in (Organisation Development, Change and Leadership) should have at least 2-year work experience in any field (after graduation
TISSNET Exam Pattern and Test Structure
TISSNET question paper is divided into three sections:- English Proficiency, Mathematical Skills and Logical Reasoning, and General Awareness. While English Proficiency and Mathematical Skills & Logical Reasoning carries 30 marks each, the General Awareness Section has a weightage of 40 marks. Given below are the highlights of the TISSNET exam pattern.
| | |
| --- | --- |
| TISSNET Exam Pattern | Details |
| Exam Mode | Computer-Based Test mode |
| Exam Timings | 2:00 pm to 3:40 pm |
| Test Duration | 1 hour 40 minutes |
| Total Questions | 100 questions |
| Sections/Subjects | 3 sections based on: English ProficiencyMathematics and Logical ReasoningGeneral Awareness |
| Total Marks | 100 marks |
| Type of Questions | Multiple choices based questions |
| Medium | English |
| Negative Marking | No |
TISSNET 2022 Selection Process
Candidates should check below the step-by-step selection process for TISSNET 2022:
Step 1: Fill the Application form
Candidates have to register for the TISSNET exam by filling the online application form available on the official website of TISS Mumbai.
Application fees: 
| | | |
| --- | --- | --- |
| Number of courses | General Category | SC/ST/OBC(NC) Category |
| For one course | Rs 1,030 | Rs 260 |
| For two courses | Rs 2,060 | Rs 520 |
| For three courses | Rs 3,090 | Rs 780 |
The application fee for the TISSNET exam can be paid in online mode using: net Banking, Credit Card or Debit Card
Step 2: Download TISSNET 2022 Admit Card
Candidates who register successfully for the exam will receive their TISSNET admit cards. The same can be downloaded from the official website of TISS. Candidates must remember that the admit card is an important document that needs to be carried to the examination hall. 
Step 3: Appear for TISSNET 2022 Exam
Candidates are required to appear for the entrance test on the scheduled date. The test duration is one hour and 40 minutes, and test-takers will be asked questions based on English Proficiency, Mathematics & Logical Reasoning and General Awareness
Step 4: Check TISSNET 2022 Result
TISSNET result will be declared tentatively in the last week of March 2022 on the official website of TISS. Candidates can view their scorecards by entering their user ID and password. 
Step 4: Pre-Interview Test /TISSMAT
Candidates who clear the TISSNET exam are called for the Pre-Interview Test (PIT) or TISSMAT. The previous year, the tissmat 2021 was cancelled for the academic year due to the surge in the COVID-19 cases. The TISSMAT or TISS Management Aptitude Test is of 45 minutes duration. The total mark of TISSMAT is 50. There are 36 multiple-choice questions (MCQs) from the sections such as Comprehension, Management Data Interpretation, Business Awareness and Descriptive Writing.
Step 5: Online Assessments
Shortlisted Candidates will have to appear for the Online assessment rounds. the online assessment will consist of extempore reflection on the topic and interview. Final weightage will be given on the basis of TISSNET 2022 result, OPI and extempore.
TISSNET 2022 Expected Cut Off
The qualifying cut off in TISSNET usually ranges between 65-75.  Check below the table indicating the sectional cut off for TISSNET exam:
| | |
| --- | --- |
| Section | Expected Cut-Off |
| General Awareness | 25-27 |
| English Proficiency | 27-28 |
| Maths and Logical Reasoning | 23-25 |
| Total | 70-75 |
TISSMAT 2022 Expected cut off
For aspirants seeking admission to management programmes at TISS, an overall score of 32-35 will likely put them on the merit list.
| | |
| --- | --- |
| Section | Expected Cut-Off |
| Comprehension | 12 |
| Management Data Interpretation | 11 |
| Business Awareness | 9 |
| Total | 32 |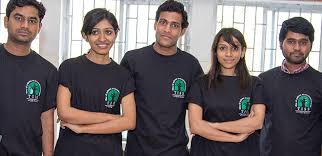 Recommendeed books for TISSNET
TISSNET is a one hour and 40-minute exam. In this duration, candidates have to solve 100 multiple choice questions on English proficiency (EP), General Awareness (GA), and Mathematics and Logical Reasoning (M&LR). From the EP section, 30 questions are asked. From GA 40 questions are asked and from the MLR 30 questions are asked. Each question carries 1 mark and there is no negative marking in the exam.
Best books for English proficiency: As per the TISSNET 2022 syllabus, the topics which are important in this section are — antonyms, synonyms, idioms, phrases, one word substitution, fill in the blanks, reading comprehension, sentence correction, error detection, etc. Some of the best books which help prepare these sections well are Word Power Made Easy by Norman Lewis, English Is Easy by Chetananand Singh, High School English Grammar and Composition Key by Wren & Martin.
Best books for general awareness: The exam pattern of TISSNET 2022 is such that this is one of the most important sections in the exam. Candidates must have knowledge of personalities, geography, literature, current affairs, economics, business, awards, sports, etc. Books that will help in preparing well are Manorama Yearbook by Manorama, Current Affairs Yearly by Kiran Prakashan.
Best books for mathematics and logical reasoning: During TISSNET 2022 preparation for maths and logical reasoning section, candidates can use these books –How to Prepare for Quantitative Aptitude for the CAT by Arun Sharma, The Pearson Guide to Quantitative Aptitude and Data Interpretation for the CAT by Nishit K. Sinha, Quantitative Aptitude by Dr. R.S Aggarwal, How to prepare for Logical Reasoning for CAT by Arun Sharma, Verbal and Non-verbal Reasoning by R S Aggarwal, Quantitative Aptitude Quantum CAT Common Admission Test for Admission into IIMs by Sarvesh K. Verma.

Preparation tips
The exam is very competitive and candidates who qualify are called up for the remainder of the admissions process. Candidates wishing to take the next exam will be able to complete the TISSNET 2022 application form at the end of October or the first half of November 2021. To pass the exam, candidates must have a thorough knowledge of the exam and good study material.
Candidates preparing for TISSNET should read the newspaper every day and keep up with the news. In doing so, applicants can create a preliminary notebook and note important names and dates.
Learn many tricks and shortcuts to gain the required speed in math. Solve brain teasers and brain teasers to improve your logical reasoning.
Solve daily reading comprehension passages and learn new words from the dictionary. Read good books and newspapers in English that will enrich your vocabulary. Be confident during the exam and get enough sleep before the exam day.
Be careful with faster calculations: A regular practice regimen is the only way to go fast and move through the math section. Being good at math can go a long way toward passing the TISSNET exam. One of the best things you can do is brush up on your standard math X and XI. If you have a good understanding of the math subjects taught in standards X and XI, deciphering TISSNET will not be very difficult.
Don't waste time on long questions: You may be able to answer questions easily, and if so, it doesn't get any better than that. However, on the other hand, the chances of not being able to answer questions or finding questions that are too long can be a possibility. In the latter case, applicants should not spend too much time on a single question. Time management plays an important role in the success of the exam, so do not
Time management plays an important role in exam resolution, so moving on to the next question in case a question takes too much time is a wise move.
Balance your speed and precision: Speed ​​and accuracy are the two key elements when testing TISSNET. There is no negative score on the TISSNET exam and candidates must therefore ensure that they answer a maximum number of questions correctly within the allotted time. If candidates complete the exam early but do not answer the questions correctly, your efforts will be wasted. Likewise, despite knowing all the answers, if they cannot answer within the allotted time, it would be impossible to get a high score.
Stay calm and focused: It goes without saying that staying calm and focused can help candidates excel on the exam. Being nervous will only increase anxiety, and in this case, applicants often click on the wrong options when they know the correct answer. It is important to read the question calmly before answering it. It might help them find the right answer, even if they don't know it.
Knowing how to apply logic: Reading comprehension passages are mostly contextual. This means that a straightforward answer may not be possible. This is where candidates need to apply logic to get the answer. If they try to ask a question in the hope of getting a straight answer, they are wrong. They have to keep an open mind and look for all possible ways to get an answer by applying some logic.
Be flexible with your strategy: Candidates should not enter the testing center with a rigid strategy in mind. The level of difficulty of TISSNET is low / moderate. Therefore, they don't need to create a rigid strategy to excel on the exam. For starters, trying to ask questions in the strength areas should be the goal of maximizing the score in those sections and gradually moving on to other questions.
Take a look at all the questions: Candidates who were unable to prepare for a particular section should not skip the questions in that section. In fact, they should take a look at the section at least once. They may come across a question to which you know the answer.
Colleges Accepting TISSNET 2022 score
Based on TISSNET 2022 scores, admissions will be offered at the following TISS campuses and courses:                                            
TISS Mumbai Campus
TISS Mumbai Schools
Courses
Seats
School of Education
Master of Arts in Education (Elementary)
51
School of Development Studies
MA in Development Studies
51
MA in Women's Studies
28
School of Habitat Studies
MA/MSc in Climate Change and Sustainability Studies
23
MA/MSc in Regulatory Governance
23
MA/MSc in Urban Policy and Governance
23
MA/MSc in Water Policy and Governance
15
School of Health System Studies
Master of Hospital Administration (MHA)
51
MPH – Health Administration
39
MPH – Health Policy, Economics, and Finance
23
MPH in Social Epidemiology  
28
School of Human Ecology
MA in Applied Psychology (Clinical and Counseling Practice)
51
School of Law, Rights and Constitutional Governance
LLM (Access to Justice)
39
School of Management and Labour Studies
MA in Globalisation and Labour
23
MA in Human Resource Management & Labour Relations
68
Master of Arts/Master of Science(Analytics) (Self Financed)
34
MA in Organisation Development, Change and Leadership
34
MA in Social Entrepreneurship
34
School of Media and Cultural Studies
MA in Media and Cultural Studies
29
School of Social Work
MA in Social Work (Children & Families)
23
MA in Social Work (Community Organisation & Development Practice)
34
MA in Social Work (Criminology & Justice)
34
MA in Social Work (Dalit & Tribal Studies and Action)
29
MA in Social Work (Disability Studies & Action)
28
MA in Social Work (Livelihoods and Social Entrepreneurship)
29
 MA in Social Work (Mental Health)
23
MA in Social Work (Public Health)
23
MA in Social Work (Women-Centred Practice)
26
TISS Tuljapur Campus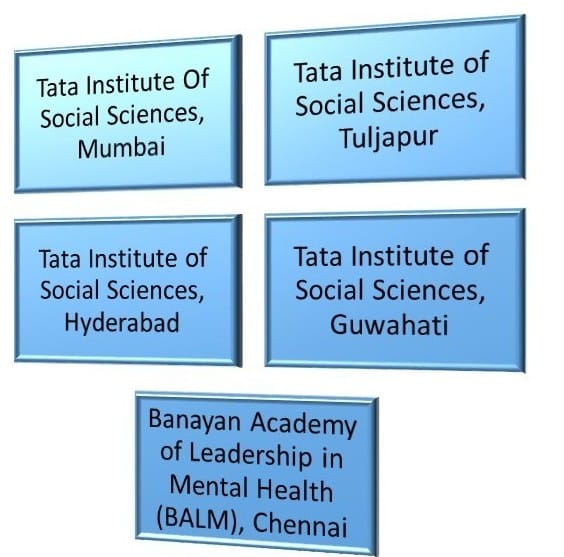 TISS Tuljipur School
Courses
Seats
School of Rural Development
MA/MSc in Development Policy, Planning and Practice
34
MA/MSc in Sustainable Livelihoods and Natural Resources Governance
34
MA in Social Innovation and Entrepreneurship
34
MA in Social Work in Rural Development
34
TISS Hyderabad Campus
TISS Hyderabad Schools
Courses
Seats
Azeem Premji School of Education  
Master of Arts in Education
34
School of Public Policy and Governance
MA in Public Policy and Governance
34
School of Livelihoods and Development
MA in Development Studies  
34
MA in Natural Resource and Governance
34
MA in Rural Development and Governance
34
School of Gender Studies
MA in Women Studies
34
TISS Guwahati Campus
School
Courses
Seats
School of Social work
Master of Arts in Social Work (Community Organisation & Development Practices)
23
MA in Social Work (Counselling)
17
MA in Social Work (Livelihoods and Social Entrepreneurship)
17
MA in Social Work (Public Health)
17
School of Social Science and Humanities
MA in Ecology, Environment and Sustainable Development
17
MA in Labour Studies and Social Protection
17
MA in Peace and Conflict Studies
17
MA in Sociology and Social Anthropology
23
Banayan Academy of Leadership in Mental Health (BALM), Chennai 
| | |
| --- | --- |
| Course | Seats |
| Master of Arts in Applied Psychology (Clinical Psychology) | 20 |
| Master of Arts in Applied Psychology (Counseling Psychology) | 20 |
| Master of Arts in Social Work (Mental Health) | 20 |
About Tata Institute of Social Sciences-TISS
TISS is a "reputable university" established under Section 3 of the UGC Act of 1956. The admissions process includes the TISSNET test, online assessments, and personal interviews. The minimum scores required for the written exam are 35 percent (for SC / ST) and 45 percent (for others). However, the mere fact of adding qualifying points on the written test does not guarantee a place in a program. The number of attempts for the TISSNET exam is not limited. A candidate can appear as many times as he wishes. Fees vary from program to program and applicants can refer to the information brochure available on the TISS website for more details. The list of merits is expected to be announced in the third week of May 2022.
TISSMAT is a 45-minute pre-interview test comprising approximately 36 multiple-choice questions in the areas of Comprehension, Interpretation of Management Data, Business Knowledge, and Descriptive Writing. Due to the increase in TISSNET scores, the online assessment and OPI will be added to the 50:20:30 report for final selection. TISS conducts an evaluation round to assess applicants' interpersonal skills, program understanding, and review previous academic records. TISS grants reservations to candidates belonging to the different categories prescribed by the government.
TISSNET Contact Information
Admissions Helpline open from Monday to Saturday – Timing 8:00 am to 8:00 pm  Candidates having any queries related to admissions including Technical Problems can call the helpline or email at [email protected]
Address
TISS Mumbai
TISS Tuljapur
TISS Hyderabad
TISS Guwahati
Tata Institute of Social Sciences,
V.N. Purav Marg,
Deonar
Mumbai – 400 088
Tata Institute of Social Sciences,
School of Rural Development,
Tuljapur-413 601,
District – Osmanabad, Maharashtra, India.
SR Sankaran Block,
AMR–AP Academy of Rural Development,
Rajendranagar,
Hyderabad 500 030.
14-A, Bhuban Road, 
Uzanbazar,
Guwahati 781 001
About Post Author
Summary
Article Name
Description
Tata Institute of Social Sciences, Mumbai conducts TISS National Entrance Test (TISSNET).
Author