The minimum support price (msp) is a "floor price" for any crop that the government considers remunerative for farmers and therefore deserves "support." It is also the price that government agencies pay each time they buy.
Currently, the Center establishes the EMP for 23 agricultural products: 7 cereals (rice, wheat, corn, bajra, jowar, ragi and barley), 5 legumes (chana, arhar / tur, urad, moong and masur), 7 oilseeds ( rapeseed-mustard). , peanuts, soybeans, sunflower, sesame, safflower and nigerse) and 4 commercial crops (cotton, sugar cane, copra and raw jute).
"Only 6% of Indian farmers benefit from Minimum Support Prices (MSP)." This figure is cited so widely, especially in the context of the Agricultural Trade and Trade (Promotion and Facilitation) Act, that it has become a fact or even a no-brainer.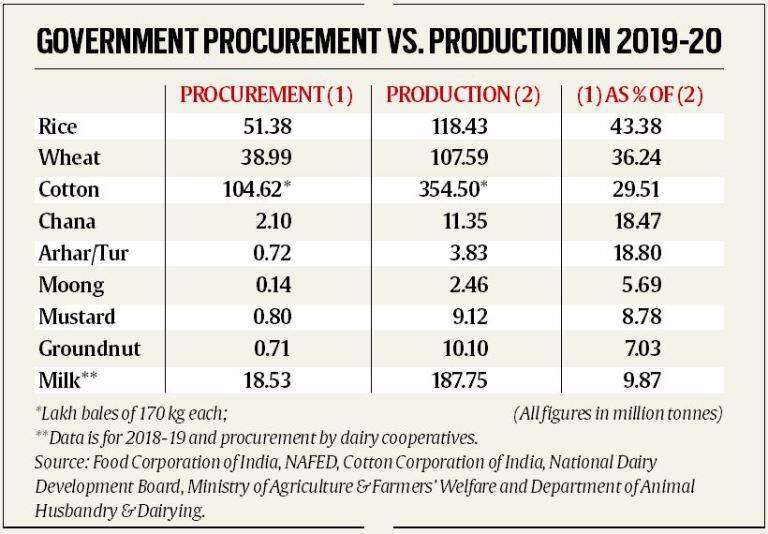 What is, is not counted ?
The apparent source of the 6% figure is the Food Corporation of India's (FCI) High Level Restructuring Committee led by Shanta Kumar. Their report, released in January 2015, indicated that only 5.21 million of the estimated 90.20 million farm households in the country in 2012-13 had sold rice and wheat to a public procurement agency. In other words, less than 5.8%.
The committee, in turn, based its analysis on the report "Key Indicators of the Situation of Farming Households in India" from the National Sample Survey Office (NSSO) for the 2012-13 cropping season (July-June) .
However, Shanta Kumar's panel only looked at paddy rice (unmilled rice) and wheat. Although a large part of government procurement is undoubtedly limited to these two cereals; the 76.49 million tonnes (mt) of rice and 38.99 mt of wheat purchased by the FCI and state agencies in 2019-20 were worth almost 215 billion rupees in their respective MSPs. – other cultures must also be taken into account.
The attached table provides data on the acquisition of the main crops during 2019-20; paddy rice / rice and wheat by FCI; chana (chickpea), arhar / tur (pigeon pea), moong (green chickpea), peanuts and rapeseed mustard by the National Marketing Federation of Agricultural cooperatives of India (NAFED); and cotton from the Cotton Corporation of India.
This also includes the purchase of milk by dairy cooperatives, which are largely quasi-governmental organizations that pay guaranteed prices to farmers, although technically they are not MSPs. Their harvest averaged 507.69 lakh kg per day or 18.53 tonnes per year in 2018-2019.
It can be seen that obtaining these crops is not negligible compared to their estimated production. The proportions range from 29.5% to more than 43% for paddy rice, wheat and cotton, 18-19% for chana and arhar / tur, 10% for milk and 7-9% for mustard. and peanuts.
The above percentages would be even higher if calculated against actual farmers' sales. Take the case of milk, where government production estimates are likely to be higher.
But even assuming the production figure of 187.75 tons for 2018-2019 is correct, no more than half (say 90 tons) would constitute a marketable surplus after self-consumption by farm households.
The share of cooperative acquisitions, for which there is authentic data from the National Dairy Development Board (NDDB), will represent at least a fifth of the marketable surplus of milk.
Aside from milk, sugarcane is another crop that is not purchased by government agencies per se. However, sugarcane prices are set by the government, and sugar factories are legally bound to pay the Center's Fair and Remunerative Price (frp) within 14 days of purchase.
They buy about 80% of the total crop produced. The FRP value of the cane crushed by them in the 2019-20 season alone (October-September) was Rs 75,585 million.
An understatement
So how does all of this fit with the theory that "only 6% of farmers get PSM"? The answer is that this repeated number is clearly an understatement. This is so even if only rice and wheat have been taken into account.
According to the aforementioned NSSO report, 44.84 million, or almost half of the estimated 90.2 million farm households in India, grew rice in July-December 2012 and 8.46 million in January-June 2013..
Also, 35.23 million (39%) grew wheat that year. If 43.4% of India's paddy / rice production and 36.2% of wheat were actually purchased by government agencies, it is clear that the MSP benefits would have been much higher than the 5.8% figure indicated in the committee report by Shanta Kumar.
The Ministry of Food's own data shows that 11.06 million rice producers and 4.06 million wheat producers benefited from the MSP's acquisitions in 2019-20.
Even after removing the double counting (farmers in Punjab and Haryana grow both crops), they would total between 13 and 13.5 million, well above Shanta Kumar's panel estimate of 5.21 millions.
The analysis can also be extended to other cultures. The NSSO report estimated the total number of cotton-producing households at 7.55 million and that of sugarcane at 6.2 million.
Up to 10 million of them may have used MSP or FRP. The BNDG 2018-19 annual report placed the total number of producer members of dairy cooperatives at 16.93 million.
Even if half of them were not regular payers, there would still be 8 million farmers who today sell milk at a guaranteed minimum price. The presence of cooperatives also ensures that private dairies pay rates closer to those of the trainers.
Overall, it can be reasonably inferred that the current PSM / Price Guarantee system covers more than 25 million farmers of all crops, including pulses and oilseeds.
According to the denominator, the 2015-16 agricultural census places the total number of farms in operation at 146.45 million, which corresponds to between 15% and 25%. Certainly not 6%.
About Post Author