Due to a strict national lockdown due to the novel coronavirus (COVID-19) during most of the first quarter of fiscal year 2020-21, gross domestic product India's GDP for the April-June quarter (Q1) fell 23.9%, according to provisional estimates released Monday by the Ministry of Statistics and Program Implementation (MoSPI).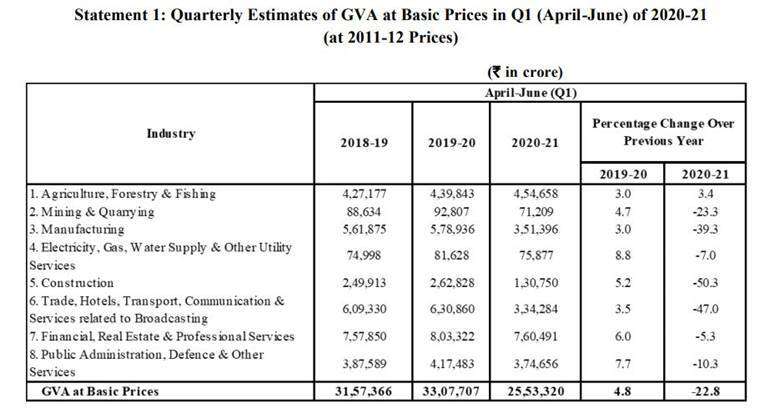 GDP grew 5.2% in the corresponding quarter of 2019-2020.
According to economists polled by Bloomberg, India's GDP shrank by 18% in the quarter that ended in June.
Earlier this month, the state bank of india (SBI) Ecowrap report said the country's GDP would contract by 16.5% in the first quarter.
GDP data for the June quarter is the worst contraction in Indian economic history, mainly because the central government on March 25 ordered a complete lockdown of most manufacturing and service sectors due to the spread of COVID-19.
During that time, only essential services, such as food and medicine, were allowed as the country tried to curb the spread of the virus across the country. GDP in the previous quarter from January to March (fourth quarter) of 2019-2020 increased by 3.1%.
According to government data, gross value added (GVA) at basic price in constant terms during the June quarter contracted by 22.8%.
The GVA at basic prices at current prices fell by 20.6% in the first quarter of 2020-2021.
According to data from the National Bureau of Statistics (NSO), all key sectors except agriculture saw 3 % while contractions, with construction dropping a considerable 50.3 percent.
Outside of these two industries, electricity, gas, water supply and other utilities fell 7%. Services related to trade, hotels, transport, communications and broadcasting contracted 47.0%.
Only the agriculture, forestry and fishing sector recorded growth of 3.4 percent in the June quarter, the data showed.
About Post Author