The ihs markit India Manufacturing Purchasing Managers' Index (PMI) survey says that Indian manufacturing activity contracted in May due to weak demand and logistical challenges.
The decline was slightly slower than the historic contraction in April i.e the manufacturing PMI was only 30.8 in May, slightly higher than 27.4 in April.
In the PMI language, an impression greater than 50 means an expansion, while a lower score indicates a contraction. A national lockdown in April, combined with a collapse in export orders, reduced conditions in all areas of the highest margin and the collapse of new business at a record pace.
In May, the works were the most affected. jobs were cut again and at a faster rate than the 15-year high in April. The PMI was already on a downward trend even before the Covid-19 pandemic struck. After hitting a peak of 55.3 months in January, production fell to 51.8 in March.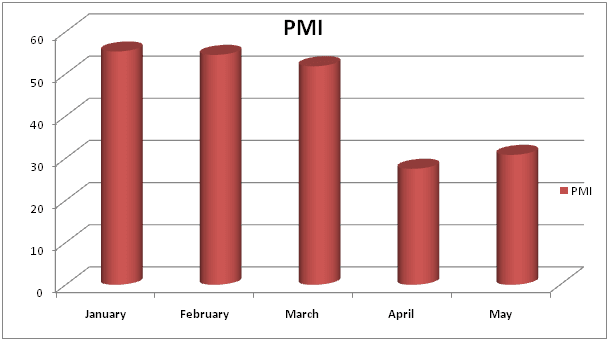 "The biggest reduction in May highlights the challenges that businesses may face in recovering from this crisis, with moderate demand as the longevity of the pandemic remains uncertain"

said Elliot Kerr, economist at IHS Markit.
Although industrial activity partially resumed after April 20, manufacturing activity could not function fully. New orders fell for the second consecutive month. In addition, shortages of labor and raw materials remained widespread, while supply chains could not be established, industry agencies said. As a result, companies continued to cut production in the middle of the second quarter, according to the survey.
Weak demand from international markets contributed to the deterioration in the sales trend, and new foreign companies fell again in May.
Anecdotal evidence suggests that global measures to stop the spread of COVID-19 have continued to stifle exports. In April, the rate of contraction in exports increased sharply and outbound sales fell at the fastest rate in more than 15 years.
Experts predict that overall industrial production for April, data for which will be released later, will drop from 75 to 80%. According to data from the Industrial Production Index, a collapse in the manufacturing sector caused industrial production to drop 16.7% in March, after the blockade had only been in place for five days.
However, the PMI survey has shown that manufacturers remain optimistic about the one-year business outlook for May.
[smartslider3 slider="2″]
About Post Author