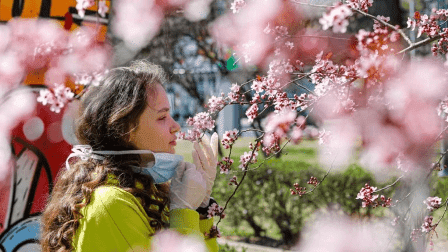 New loss of taste or smell is the most intriguing of a group of new coronavirus symptoms recently recognized by the US Centers for Disease Control and Prevention. The other new symptoms are more what you might expect from a rampaging virus are Chills, Repeated shaking with chills, Muscle pain, Headache, Sore throat. Previously, the CDC had only recognized fever, cough, and shortness of breath as symptoms of COVID -19.
In India a press note released on April 26 by the Press Information Bureau cited research about the neuro-invasive nature of the Covid-19 virus SARS-CoV by the scientists of Indian Institute of Technology (IIT), Jodhpur.
Covid-19 may affect the central nervous system causing loss of smell and taste. The scientists have attributed the loss of smell or taste to the fact that nose and mouth both are very important entry points of the virus. The research has pointed out that sars-cov-2 is known to interact with a specific human receptor known as hACE2 (human angiotensin-converting enzyme-2) which also happens to be the entry point of the virus and has an almost ubiquitous presence in most human organs.
The findings assume crucial significance in view of many asymptomatic carriers of Covid-19, who have experienced the loss of smell. The note suggests that the asymptomatic carriers of Covid -19, facing anosmia (loss of smell) and ageusia (loss of taste), should go for self-quarantine as soon as they feel the absence of smell or taste and consult specialised nephrologists before they turn into carriers. This finding can prove extremely critical for India where more than 65 per cent cases have been found to be asymptomatic.
Following an earlier study that validated the loss of smell and taste as indicators of SARS-CoV-2 infection, researchers at UC San Diego Health report in newly published findings that olfactory impairment suggests the resulting COVID-19 disease is more likely to be mild to moderate, a potential early indicator that could help health care providers determine which patients may require hospitalization. The findings were published online April 24, 2020 in the journal International Forum of Allergy & Rhino –logy.
Normosmia or the normal sense of smell is an independent predictor of admission in COVID-19 cases, in previous research, loss of olfactory function is a common early symptom, following fever and fatigue. What's notable in the new findings is that it appears that loss of smell may be a predictor that a SARS-CoV-2 infection will not be as severe, and less likely to require hospitalization. If an infected person loses that sense, it seems more likely they will experience milder symptoms, barring other underlying risk factors.
The researchers' latest study was a retrospective analysis between March 3 and April 8 of this year and included 169 patients who tested positive for COVID-19 at UC San Diego Health. Olfactory and gustatory data were obtained for 128 of the 169 patients; 26 of whom required hospitalization. Patients who were hospitalized for COVID-19 treatment were significantly less likely to report anosmia or loss of smell (26.9 percent compared to 66.7 percent for COVID-19-infected persons treated as outpatients). Similar percentages were found for loss of taste, known as dysgeusia.
Patients who reported loss of smell were 10 times less likely to be admitted for COVID-19 compared to those without loss of smell, Moreover, anosmia was not associated with any other measures typically related to the decision to admit, suggesting that it's truly an independent factor and may serve as a marker for milder manifestations of Covid-19.
About Post Author