The generation of invoices reached 18.32 lakh, valued at more than 54.5 billion rupees, on June 30. An increase in electronic invoices is considered to indicate a rebound in economic activity, as it reflects an improvement in the movement of goods. Invoice generation is slowly progressing to pre-lockdown levels, with more than 4.27 million rupees generated in June, compared to an average of 5.3 million rupees per month during the period leading up to Covid.
To curb tax evasion, the government introduced the electronic invoicing system for interstate and interstate commerce.
The invoice, which must be carried by the person responsible for a shipment of goods with a value greater than Rs. 50,000, generated from the common portal of the GST.
The validity of the e-way invoice depends on the distance that the goods must be transported.
According to data published by the GST network, the computer backbone of the indirect tax system, with the gradual easing of the lockdown, the generation of electronic invoices reached 18.32 lakh, worth more than Rs 54,500 crore on June 30, the last unlocking day 1.0. The two numbers are the highest in their respective categories since the lock was applied.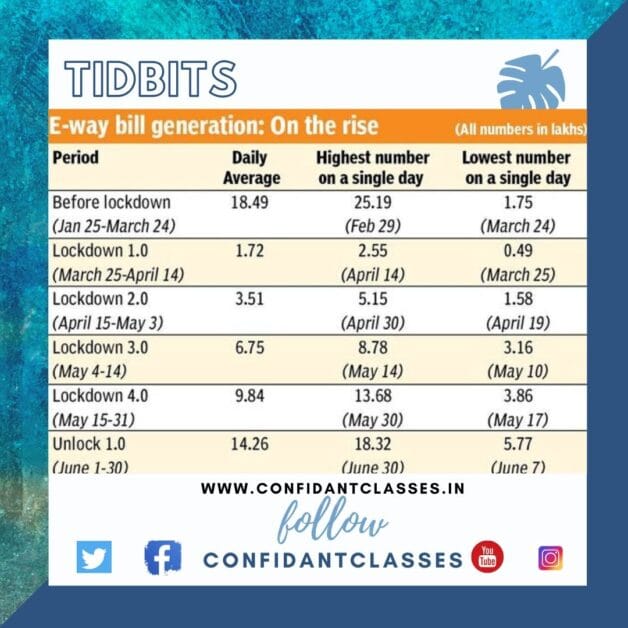 The generation of electronic invoices, which was around 20 lakh per day before Covid, fell dramatically after the blockade was put in place in March.
The month was most marked, with the generation of electronic invoices falling to around 0.49 lakh on March 25.
In a monthly comparison, April saw a sharp drop in electronic invoices of 84.53 lakh, valued at Rs 3.9-crore de lakh
With the restrictions reduced, the number increased rapidly in May and June.
The data confirms that the economy is accelerating with the resumption of movement of goods near pre-closing levels and that GST collections are increasing sharply.
As part of reducing the burden of compliance, the validity of the electronic invoice has been extended to ensure the smooth flow of goods blocked on the roads during the closure.
About Post Author